A Better Way
Welcome to Myanmar's first platform dedicated to people with diabetes, hypertension, and other chronic health conditions. We're here to help.
What We Offer
Great Prices
Managing your health shouldn't break the bank. We work hard to help you save money on the medicines you use every day.
Doorstep Delivery
Medicines delivered straight to your home, so you never miss a dose. And it's free for Yangon and Bago residents.
Quality Guarantee
You don't need to compromise on quality. Everything on our platform is authentic, registered, and new. We guarantee it.
Insulins
The broadest range available in Myanmar today, from short-acting to long-acting and everything in between
Diabetes Medicines
Metformin, gliclazide, and all other medicines needed for diabetes mellitus -- plus blood glucometers and test strips
Blood Pressure Medicines
ACE inhibitors, beta blockers, diuretics, and other medicines to treat hypertension (high blood pressure)
Heart Medicines
Anticoagulants, statins and other medications to lower cholesterol and reduce the risk of blood clots
Vitamins and Supplements
Multivitamins, nutritional supplements, and other products for people with chronic conditions
"On behalf of diabetes patients in Myanmar, I would like to thank Common Health for delivering medications to our home at a fair price."
- Daw Ei San, Housewife, Yangon
"I used to have to walk by myself to buy medications. With Common Health, now I can get my medications easily, without having to leave home."
- Daw San San Yi, Retired Teacher, Yangon
"For diabetes patients, all we need is good quality medications. I do not need to worry about medication quality with Common Health."
- U Chit Maung, Business Owner, Yangon
"We save 25,000 kyats per family member on medication costs by ordering from Common Health, and we don't need to worry about the expiration date."
- Daw Myint Myint Wai and U San Thein
Ordering Is Easy
Call us, send us a message on Viber or Facebook, or order here!
Dial 0977 044 5000 to speak with us 7:00 AM - 10:00 PM, seven days a week. Calls are free from ATOM and Ooredoo SIMs.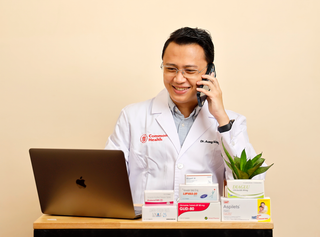 Free Telemedicine Care
Whether you have a question about a medication or just want to understand your condition better, help is a phone call away. All Common Health customers have free telemedicine access, 24 hours a day, seven days a week.
Latest News
Dr. Khine Khine Zaw shares the key medicines for managing diabetes -- and how to take them responsibly
Nang Nwe shares that Common Health now brings access to great prices, free delivery, and guaranteed quality on medications to families in Bago
Han Thu San sits down with Common Health's CEO to discuss the company's mission and impact